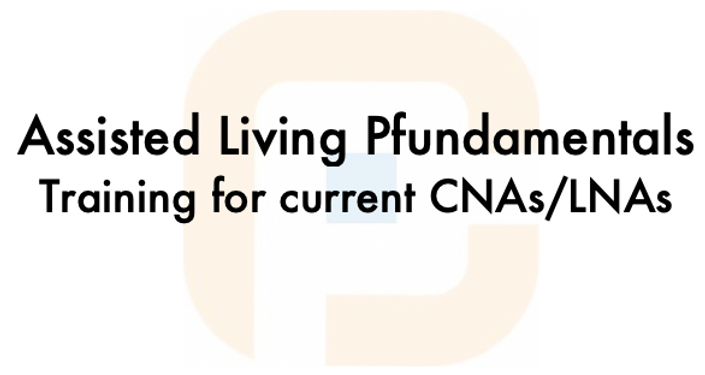 Assisted living training for active CNA/LNAs
For active CNA/LNAs to become caregivers.
A caregiver is a rewarding and fulling career. The State of Arizona requires caregivers to receive specialized training and pass the state exam. At Assisted Living Pfundamentals, we tailor our training to your schedule. We offer multiple locations and utilize technology to provide an engaging and flexible learning experience.
Your training will consist of 16 classroom hours.
Course Cost: $235.00. State test is $65.00.

Training Topics Include: Medication Management
To Enroll: Click Here (Opens in new window)
Or Call / Text to 602-726-2800 or email [email protected]
To Make Payment:
Cash: $235.00 Send via Zelle to [email protected]
Cash: $235.00 Send via Venmo: www.venmo.com/pfund

Card: $246.75 Select your training course from the drop down, then click the Yellow Buy Now below (price includes a 5% processing fee).
Frequently Asked Questions
When does the course start and finish?
Your training starts with a phone call or email. Once we have you registered and fee paid, your training is completely self-paced during our hours of operation. You have two months once you start to finish your training.
How many hours am I required to complete in the classroom?
You are required to complete 16 hours of classroom training.
Can I complete my training at home?
No. Arizona requires you to complete all your training in the classroom.
What is required to take the state exam?
To be eligible to take the state caregiver exam you need to complete all 16 hours of training and provide evidence of your food handlers card.
How many times can I take the state caregiver exam?
Arizona allows two attempts to pass the exam. In the event you are unsuccessful, you will be required to retake the caregiver training program; including paying the fee.
Am I required to have a finger print card?
To attend school and take your state exam you are not required to have a finger print card. You are required to have a finger print card prior to your employment as a caregiver.
Are refunds available?
Once you enroll, you have 5 calendar days to withdraw from the course and receive a refund. Refunds must be requested by email to
[email protected]
Two exceptions: 1. There is a $100.00 program registration fee that is no refundable. 2. You must not start any of your training. If you started your training no refund will be given.
In what language is the training taught?
All training is currently taught in English. The state exam is only given in English.